Oh, Internet - why must you be so available with
brightly colored representations of things that I don't really need?? Anytime I get the notion that I "might like to have" something, I can type in a search and find all the info I need to persuade me that I "must have" it.
My newest need/want is this watch: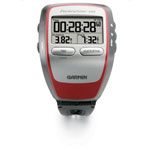 And it's oh so much more than a watch, yes-sir-ree. This is the Garmin Forerunner 305. It will track my by global positioning to determine how fast, how far, how high and how hard I am running or biking. *comes with a REALLY cool thingy for my bike - sold separately*
Yes, folks, this little baby is super duper accurate and will give me all the stats I need to determine that I am still, indeed, NOT an elite athlete. As much as I love the numbers, I don't really need to know them. If it takes me 44 minutes to run my usual 4 mile out and back, what does it matter if over time I shave 10 seconds off here and there. Last year it took me 50 minutes - progress - all tracked on a free application on my Android phone.
So - while I would LOOK like a really fancy runner (okay minus the extra puddin' in the middle) it wouldn't make a difference in the way I train. I could use the heart rate information...but have a strap that just needs to have a new battery - would cost me $38, not $199.
I must stop looking at and researching these things. I can't make a rational decision when staring at the beautiful merchandise on the flashy websites. Removing temptation - it's what works for me and allows me to decide if its a need or a want.
Garmin Forerunner 305 - want.